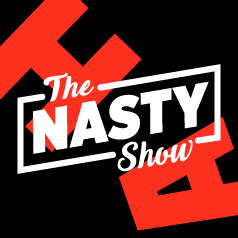 The Nasty Show
The following program deals with mature subject matter and contains coarse language intended for adult audiences. Viewer discretion is advised.
You must be 18 or older to watch the show.
Sorry! You'll be redirected to the home page.
4
The Nasty Show is back and will hands-down be the filthiest, most shocking and taboo show of the festival. This iconic JFL brand pushes the boundaries and encourages audiences to check their political correctness at the door… let go and laugh! Prepare yourself for a special edition of one of the festival's longest-running shows, shot live from New York! Hosted by Big Jay Oakerson and featuring Donnell Rawlings, Rosebud Baker, Robert Kelly, Yamaneika Saunders, Paris Sashay, and Ari Shaffir! Filmed in front of a live audience in New York and airing for the first time at Just For Laughs, online and free!